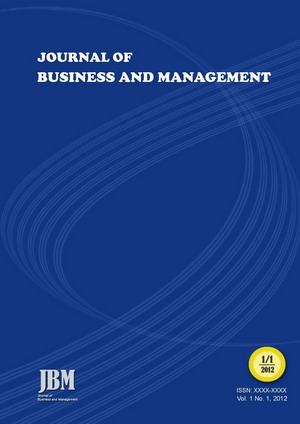 Journal of Business and Management (JBM)is an online journal that is published three times a year. It publishes research papers that give rigorous theoretical and practical insight of business and managament. JBM aims to provide a forum for the dissemination of theory application and research in all areas of business and management, including but are not limited to marketing, business strategy, decision science and decision-making, strategic negotiation, finance, business risk, knowledge management, human capital management, technology management, entrepreneurship, and others relevant subjects. It is intended for researchers, students, business practitioners, and entrepreneurs to publish their ideas and experiences, and share their knowledge on business and management issues.
Print ISSN: 2252-3898; Online ISSN: 2252-3308
Disclaimer: The contents of articles published in the Journal of Business and Management will not experience any changes. The journal manager will always publish articles exactly as the draft sent by the author.
Vol 12, No 1 (2023)
Table of Contents
Articles
| | |
| --- | --- |
| | |
| Silvia Rini Putri, Ana Noveria | |
| | |
| --- | --- |
| | |
| Raden Rajendra Sadu Wiryawan, Melia Famiola | |
| | |
| --- | --- |
| | |
| Ilham Zulfian Rahman, Nur Arief Rahmatsyah Putranto | |
| | |
| --- | --- |
| | |
| Vincent Handojo, Salfitrie Roos Maryunani | |
| | |
| --- | --- |
| | |
| Muhamad Rafly Fauzi, Budi Permadi Permadi Iskandar | |
| | |
| --- | --- |
| | |
| Maulidya Azzahra, ira fachira | |
| | |
| --- | --- |
| | |
| Alma Nur Azizah, Annisa Rahmani Qastharin | |
| | |
| --- | --- |
| | |
| Anazda Zuama Adiratna, Fitri Aprilianty | |
| | |
| --- | --- |
| | |
| Annisa Ghassani, Atika Irawan | |
| | |
| --- | --- |
| | |
| Pradna Cantikatmaka Renaningtyas, Nur Arief Rahmatsyah Putranto | |
| | |
| --- | --- |
| | |
| Arikko Fauzan Hertianto, Achmad Herlanto Anggono | |
| | |
| --- | --- |
| | |
| Syahrul Kamal Ashefi, Santi Novani | |
| | |
| --- | --- |
| | |
| Aulia Achmad Jibril, Ilma Aulia Zaim | |
| | |
| --- | --- |
| | |
| Adnan Kresna Mustafid, Wawan Dhewanto | |
| | |
| --- | --- |
| | |
| Muhammad Razan Fadhlurrahman, Amilia Wulansari | |
| | |
| --- | --- |
| | |
| Alfina Boedhi Aji, Annisa Rahmani Qastharin | |
| | |
| --- | --- |
| | |
| Raffi Alfarizi Hadianto, Achmad Herlanto Anggono | |
| | |
| --- | --- |
| | |
| Muhammad Daffa Rivalki Afif, Nurrani Kusumawati | |
| | |
| --- | --- |
| | |
| Muhammad Hamzah Khadafi, Annisa Rahmani Qastharin | |
| | |
| --- | --- |
| | |
| Pasyhw Sebastian, Hary Febriansyah | |
| | |
| --- | --- |
| | |
| Falih Zuhdi Rizqullah, Atika Irawan | |