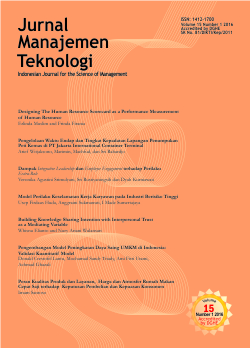 Jurnal Manajemen Teknologi
is one of the scientific publications published by SBM ITB. This journal covers business and management in the wide fields, with the aim to support the development of business and management theory and practice through the dissemination of high quality research results.
Jurnal Manajemen Teknologi is accredited by the Directorate General of Research and Development Strengthening, Ministry of Research, Technology, and Higher Education of Republic Indonesia No. 60/E/KPT/2016, Tanggal 13 November 2016 with a validity period of 5 ( five ) years. Print ISSN: 1412-1700; Online ISSN: 2089-7928. Member of Crossref and Abstracted/Indexed in GARUDA-Garba Rujukan Digital, Google Scholar, Directory of Open Access Journals (DOAJ), Sinta (Science and Technology Index), Sherpa /Romeo, Dimensions-Digital Science, Indonesia OneSearch.
Indexing:







Announcements
Jurnal Manajemen Teknologi Volume 21 Issue 3 Year 2022 has been published

Ysh Researchers,

We gladly inform you that the new edition of Jurnal Manajemen Teknologi Vol 21 No 3 2022 has been published.

Please find the link below:
https://journal.sbm.itb.ac.id/index.php/mantek/issue/view/251

Thank you for your valuable contribution.

Regards,
Editorial Team
Jurnal Manajemen Teknologi

Posted: 2022-12-29
Vol 22, No 1 (2023)
Table of Contents
Articles
| | |
| --- | --- |
| | PDF |
| Dede Iskandar Siregar, Alum Kusumah, Arista Tri Astuti, Wan Laura Hardilawati | 38-53 |
| | |
| --- | --- |
| | PDF |
| Timothy Andrianus Philemon, Maria Widyarini, Paulina Kus Ariningsih, Riarni Adina Ardanareswari | 54-73 |
| | |
| --- | --- |
| | PDF |
| Erwin Permana, Khalida Utami, Margo Purnomo | 74-93 |
| | |
| --- | --- |
| | PDF |
| Revinna Pangestu, Raissa Rengganis, Kayla Lukman | 94-110 |