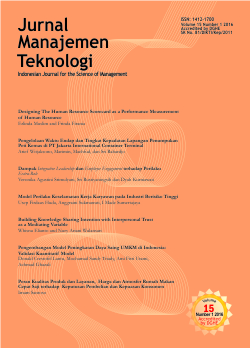 Jurnal Manajemen Teknologi
is one of the scientific publications published by SBM ITB. The purpose of the Journal is to support development management theory and practice in Indonesia through the dissemination of research findings in the field. The journal covers fields such as Knowledge and People Management, Operations and Performance Management, Business Risk, Finance and Accounting, Entrepreneurship, Strategic Business and Marketing and Decision Making and Strategic Negotiation.

Jurnal Manajemen Teknologi is accredited by the Directorate General of Research and Development Strengthening, Ministry of Research, Technology, and Higher Education of Republic Indonesia No. 60/E/KPT/2016, Tanggal 13 November 2016 with a validity period of 5 ( five ) years. Print ISSN: 1412-1700; Online ISSN: 2089-7928. Member of Crossref and Abstracted/Indexed in GARUDA-Garba Rujukan Digital, Google Scholar, Directory of Open Access Journals (DOAJ), Sinta (Science and Technology Index), Sherpa /Romeo, Dimensions-Digital Science, Indonesia OneSearch.
Indexing:







Announcements
[Announcement] SINTA-2 Accreditation for Jurnal Manajemen Teknologi Renewal

Dear researchers,

According to decree No 148/M/KPT/2020, we are delighted to announce that Jurnal Manajemen Teknologi has been successfully maintaining its accreditation in Science and Technology Index (SINTA 2) for the period 2020 to 2024. We hope that the accreditation will enhance the quality of the paper published. This achievement would not be possible without the support and contribution of Jurnal Manajemen Teknologi researchers and reviewers.

Best regards,
Atik Aprianingsih, DBA
Editor-in-Chief
Jurnal Manajemen Teknologi

Posted: 2020-10-22
Vol 21, No 2 (2022)
Table of Contents
Articles
| | |
| --- | --- |
| | PDF |
| Ismed Hanafi, Heru Kurnianto Tjahjono, Meika Kurnia Puji Rahayu DA | 117-136 |
| | |
| --- | --- |
| | PDF |
| Agustinus Hariadi Djoko Purwanto, Sri Hartono | 166-187 |
| | |
| --- | --- |
| | PDF |
| Wiwiek Mardawiyah Daryanto | 219-233 |