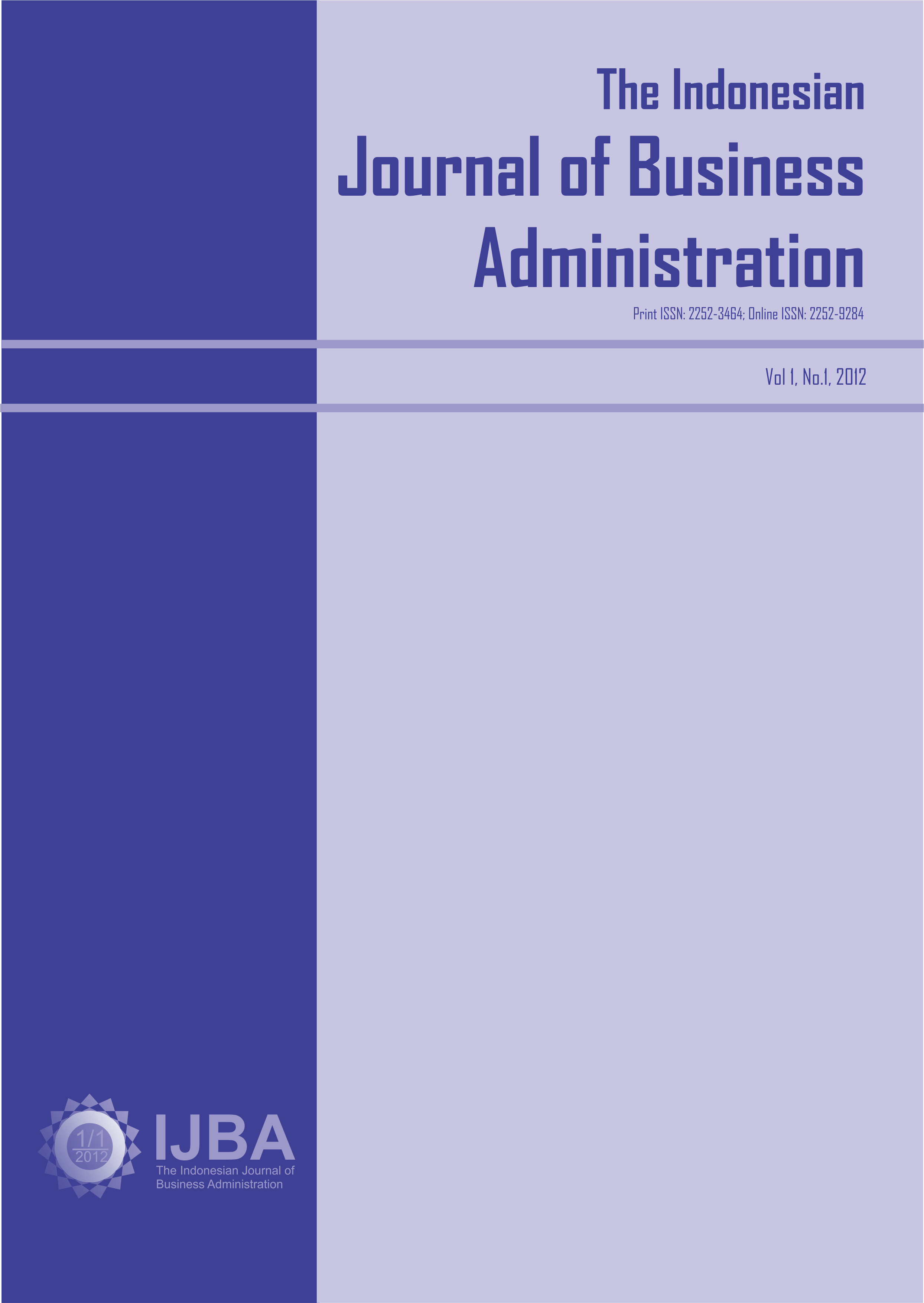 The Indonesia Journal of Business Administration(IJBA) is a business journal that bridges the gap between business research and practice, evaluating and reporting on new research to help readers identify and understand significant trends in their fields.
The IJBA seeks to publish papers relating to business, broadly defined. It publishes articles that address both theoretical and practical issues in the broad areas of Business Strategy and Marketing, People and Knowledge Management, Entrepreneurship and Technology Management, Decision Making and Strategic Negotiation, Operation and Performance Management, and Business Risk and Finance. Contributing academicians and researchers are encouraged to address a variety of concerns relating to all areas of business. We also encourage students to use an interdisciplinary approach to analyzing a topic, which often yields interesting and novel papers.
The published articles provide valuable insight into matters of broad intellectual and practical concern to academicians and business professionals. The Journal is published three times a year: in April, July and October.
The journal is mainly an outlet of MBA ITB students to publish their final project works. A published paper is an honour that will be unambiguously beneficial for professional and academic careers, especially for those who want to attend graduate/professional schools.
Print ISSN: 2252-3464; Online ISSN: 2252-9284
Vol 11, No 1 (2022)
Table of Contents
Articles
| | |
| --- | --- |
| | |
| Maulana Hidayat, Gatot Yudoko | |
| | |
| --- | --- |
| | |
| Fakhri Arsyi Hawari, Achmad Herlanto Anggono | |
| | |
| --- | --- |
| | |
| Devy Dzikyan Fauzia, Yunieta Anny Nainggolan | |
| | |
| --- | --- |
| | |
| Bezaleel Yahya, Subiakto Sukarno | |
| | |
| --- | --- |
| | |
| RR Nurul Ramadhanti, Salfitrie Roos Maryunani | |
| | |
| --- | --- |
| | |
| Rama Alexander Hehuwat, Subiakto Sukarno | |
| | |
| --- | --- |
| | |
| Muhammad Nabil Ulwan, Oktofa Yudha Sudrajad | |
| | |
| --- | --- |
| | |
| Imam Teguh Islamy, Mursyid Hasan Basri | |
| | |
| --- | --- |
| | |
| Meisya Regina Kusnadi, Herry Hudrasyah | |
| | |
| --- | --- |
| | |
| Rani Ummi Fadila, Reza Ashari Nasution | |