Analysis of Financial Ratio to Distinguish Indonesia Joint Venture General Insurance Company Performance using Discriminant Analysis
Abstract
Insurance industry stands as a service business that plays a significant role in Indonesiaeconomical condition. The development of insurance industry in Indonesia, both of generalinsurance and life insurance, has increased very fast. The general insurance industry itselfdivided into two major players which are local private company and Joint Venture Company.Lately, the use of statistical techniques and financial ratios models to asses financial institutionsuch as insurance company have been used as one of the appropriate combination inpredicting the performance of an industry. This research aims to distinguish between JointVenture General Insurance Companies that have a good performance and those who are lessperforming well using Discriminant Analysis. Further, the findings led that DiscriminantAnalysis is able to distinguish Joint Venture General Insurance Companies that have a goodperformance and those who are not performing well. There are also six ratios which are RBC,Technical Reserve to Investment Ratio, Debt Ratio, Return on Equity, Loss Ratio, and ExpenseRatio that stand as the most influential ratios to distinguish the performance of joint venturegeneral insurance companies. In addition, the result suggest business people to be concernedtoward those six ratios, to increase their companies' performance.
Key words: general insurance, financial ratio, discriminant analysis
Downloads
Download data is not yet available.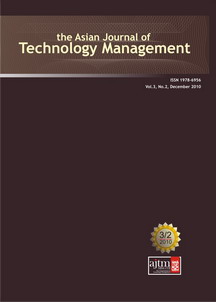 Downloads
How to Cite
Soekarno, S., & Azhari, D. A. (2010). Analysis of Financial Ratio to Distinguish Indonesia Joint Venture General Insurance Company Performance using Discriminant Analysis. The Asian Journal of Technology Management (AJTM), 3(2). Retrieved from https://journal.sbm.itb.ac.id/index.php/ajtm/article/view/166
License

This work is licensed under a Creative Commons Attribution-NonCommercial-ShareAlike 4.0 International License. Copyright @2017. This is an open-access article distributed under the terms of the Creative Commons Attribution-NonCommercial-ShareAlike 4.0 International License (http://creativecommons.org/licenses/by-nc-sa/4.0/) which permits unrestricted non-commercial used, distribution and reproduction in any medium