An Analysis of Inventory Management of T-Shirt at Mahanagari Bandung Pisan
Abstract
Inventory management plays an important role in business activity for fulfilling the demandfrom the customer. Mahanagari Bandung Pisan, a retail company that runs its business indesigning and creating the merchandise of Bandung, currently faces a problem within itsinventory management of T-shirt, the main product of the company that contributes about 79percent of the whole total sales. The company produces a high number of inventories, butthere is still lost sales occurred. This research is aimed at reviewing and finding the rootcauses of the problems occurred within inventory management of T-shirt in MahanagariBandung Pisan, by using the concept of inventory cycle for describing the current systemimplemented by Mahanagari Bandung Pisan in planning and managing the inventory of Tshirt.From the research, there are four main problems faced by the company in managing theinventory of the T-shirt. Those problems are inaccurate forecasting, unfixed schedule inordering the T-shirt to the vendor, lateness from vendor, and the office does not know currentcondition of T-shirt's inventory. This paper proposed some solutions for solving the problem,which are combining the intuitive prediction method with moving average model for gettingthe more accurate demand forecasting, making the timeline in controlling and producing theinventory of T-shirt, implementing periodical control system and put a clause about sanctionin the contract made by Mahanagari Bandung Pisan and the vendor and controlling thesalesperson everyday and creating the rules about inventory recording.
Key words: inventory management, inventory cycle, mahanagari bandung pisan, forecasting,t-shirt
Downloads
Download data is not yet available.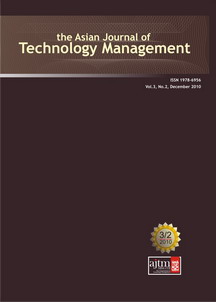 Downloads
How to Cite
Simatupang, T. M., & Olanda, N. J. (2010). An Analysis of Inventory Management of T-Shirt at Mahanagari Bandung Pisan. The Asian Journal of Technology Management (AJTM), 3(2). Retrieved from https://journal.sbm.itb.ac.id/index.php/ajtm/article/view/165
License

This work is licensed under a Creative Commons Attribution-NonCommercial-ShareAlike 4.0 International License. Copyright @2017. This is an open-access article distributed under the terms of the Creative Commons Attribution-NonCommercial-ShareAlike 4.0 International License (http://creativecommons.org/licenses/by-nc-sa/4.0/) which permits unrestricted non-commercial used, distribution and reproduction in any medium